Employees Only named a 2015 winner of "Metropolitan Detroit's Best and Brightest Companies to Work For®"
August 4, 2015
We are honored and excited to once again be named a winner of "Metropolitan Detroit's Best and Brightest Companies to Work For®". This is an award that we take very seriously. Although we have won the award 11 out of the last 12 years, each year is special because we are always trying to find new ways to engage with our employees and improve employee satisfaction.  We firmly believe that the happier our employees are, the better service we will provide to our customers and the employees that work on behalf of our customers.  The principles that helped us earn this prestigious award are carried out in our day-to-day interactions with our clients, the employees of our clients and with our partners that support our mission and core values.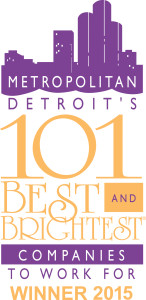 A bit more about 101 Best and Brightest…….
This national competition "identifies and honors organizations that display a commitment to excellence in their human resource practices and employee enrichment."  Widely considered as one of the premier national award symposiums, the 101 Best and Brightest Companies to Work For celebrates companies that are making the lives of their employees better as well as the community as a whole. Selected companies are assessed against criteria such as communication, work-life balance, employee education, diversity, recognition, retention and more.  For us these are more than competition criteria, they are core tenets of our business.  "This recognition is true honor because, collectively, we strive to maintain open lines of communication, a good work-life balance and access to education for all our employees.  It is always a welcome surprise to be recognized for your work but for us these really are the pillars of our business philosophy," stated Mario Apruzzese, CEO and Head Visionary of Employees Only. To learn more about what it is like to work at Employees Only or to see how we can improve your human resource management, view our Careers page or Contact Us today.