Interested in working for Employees Only?
Good choice, read on…..
Why work at Employees Only?
At Employees Only, we are of the "work hard, play hard" mentality.  This is evidenced by not only the happy clients we service but also by the company awards we have won, which include:
Metropolitan Detroit's 1010 Best and Brightest Companies (a 2015 winner and winner 11 out of the last 12 years)
Crain's Detroit Best Places to Work

 

Sloan Award for Excellence in the Workplace 
Employees Only is a Great Place to Work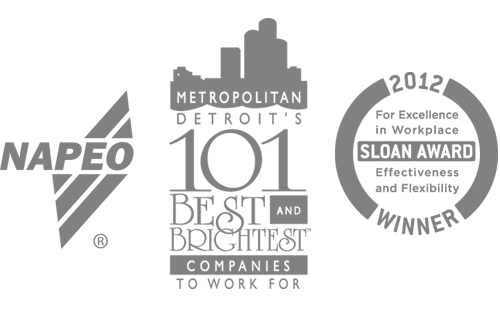 What Its Like to Work at Employees Only
We offer our employees a challenging yet rewarding working environment. This is evidenced by our core values which are located below. In addition, we offer generous compensation, paid time off and great benefit plans (as a provider of Human Resource solutions, we specialize in offering great benefits).
Dependable and Competent
Know your stuff, ask if you don't.
Be responsible and on time for everything.
Consistently deliver results.
Respect
Golden Rule; Do unto others as you would have them do unto you.
People, Property, and Time.
Enthusiastically Driven by Customer Service
Sense of urgency in your actions.

Service to the customer (and team members) above all else.

Make sure your efforts are needed and valued by others.

Passion makes perfect.
Do the Right Thing
Do what your heart tells you.

Walk the talk; actions speak louder than words.

What if your mom was watching?

Reputation and Personal Integrity is everything.
Open Positions
We are always looking for new people to join our Team. Snd us your resume. Send Resume